Apple has given a sneak peek into macOS Sonoma, the latest iteration of its cutting-edge computer operating system, aimed at delivering an elevated Mac experience.
macOS Sonoma Features
The update brings a range of new features, including interactive widgets, enhanced video conferencing capabilities, significant updates to Safari, stunning screensavers, and improved gaming performance. The announcement was made by Craig Federighi, Apple's Senior Vice President of Software Engineering, who highlighted the delight and productivity that macOS Sonoma offers to users.
Interactive Widgets
One of the key highlights of macOS Sonoma is the introduction of interactive widgets that allow users to personalize and enhance their Mac experience. Widgets can now be placed directly on the desktop, providing convenient access to essential information and tasks.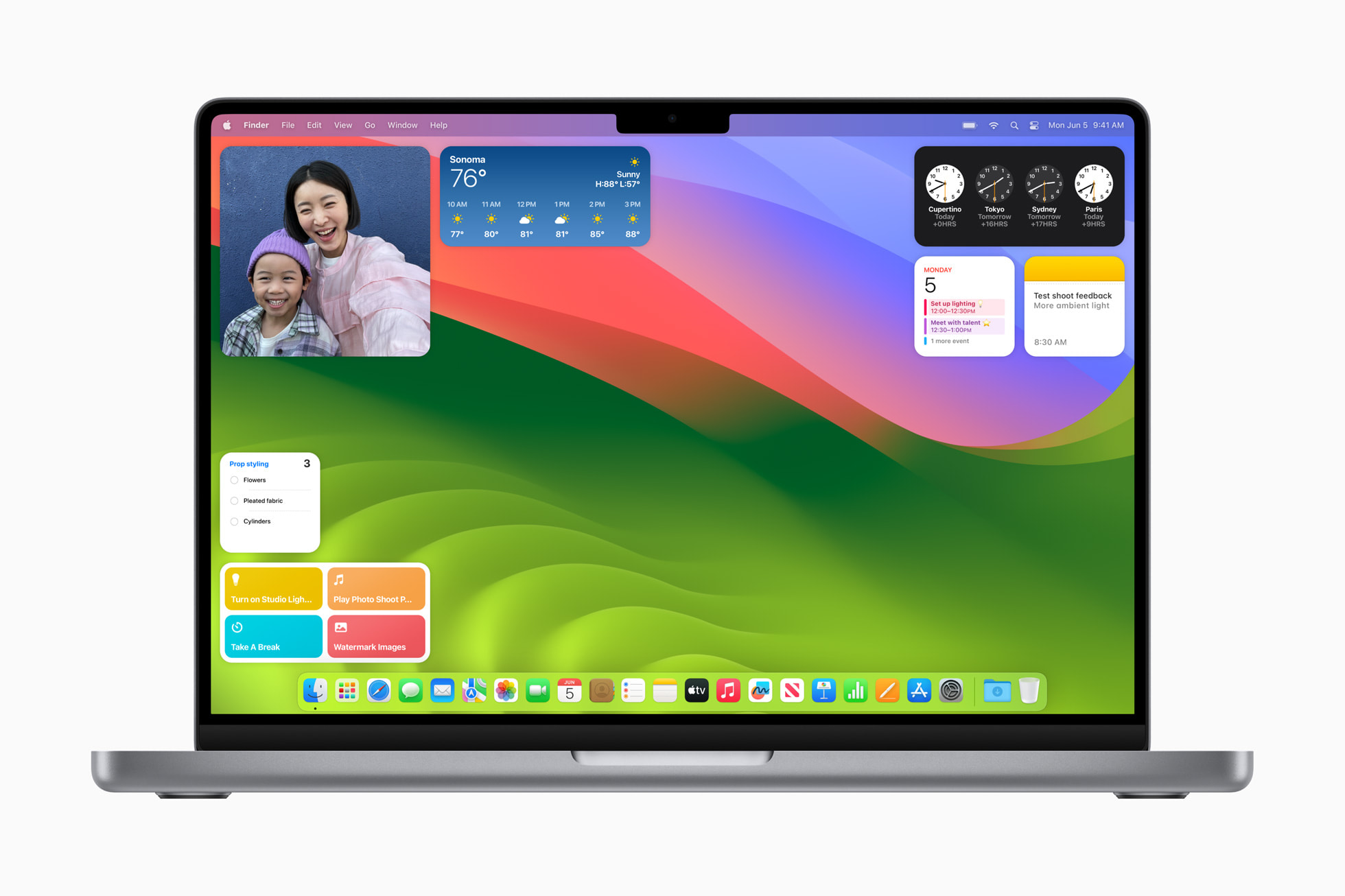 Users can choose from a variety of widgets available in the widget gallery or enjoy the extensive ecosystem of iPhone widgets seamlessly integrated into their Mac. These widgets blend seamlessly with the wallpaper, allowing users to stay focused on their tasks while enjoying personalized and interactive functionalities.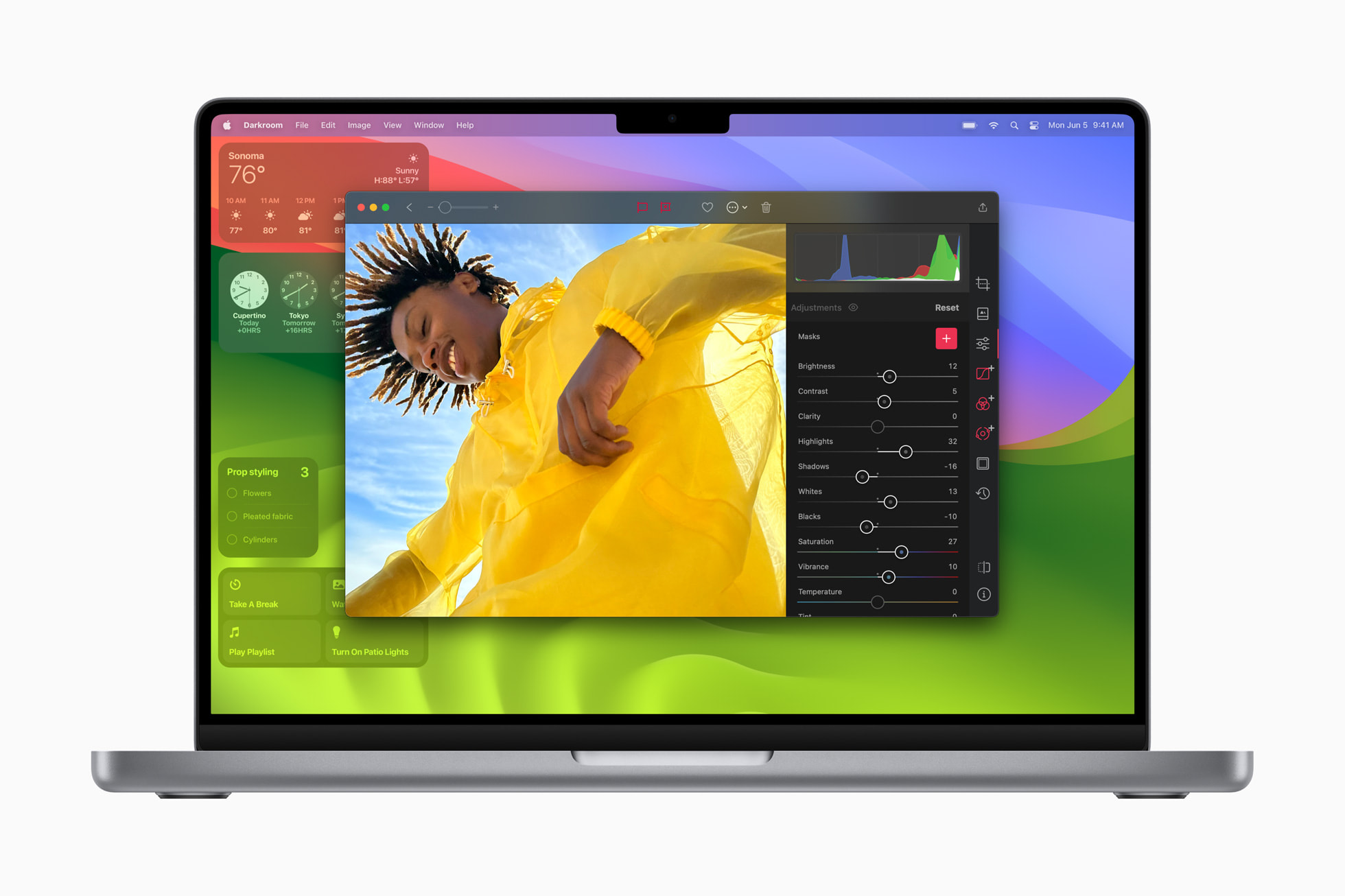 From checking off reminders to controlling media playback and accessing home controls, users can perform various tasks directly from their Mac desktop.
Enhanced Video Conferencing
macOS Sonoma brings exciting new features to enhance the video conferencing experience on Mac. The Presenter Overlay feature takes presentations to the next level by placing the presenter on top of the shared content, ensuring an engaging and dynamic presentation.
Additionally, reactions allow users to express their emotions during video calls by adding interactive video effects like balloons, confetti, and hearts. These effects can be triggered with a simple hand gesture, adding a touch of fun to the video conferencing experience.
The screen sharing picker has also been improved, simplifying the process of sharing apps during video calls and enabling seamless content sharing from currently open windows.
Major Updates to Safari
Safari, Apple's acclaimed web browser, receives significant updates in macOS Sonoma to deliver an even better browsing experience on Mac.
The update introduces a significant enhancement to private browsing, offering users greater protection against trackers and unauthorized access to their devices. Advanced tracking and fingerprinting protections in Private Browsing go the extra mile to prevent websites from tracking or identifying users.
Private browsing windows now lock automatically when not in use, allowing users to keep their tabs open even when they step away from their Mac.
Another notable addition is the introduction of profiles in Safari, providing users with a convenient way to separate their browsing activities based on different topics or projects. Profiles keep cookies, history, extensions, tab groups, and favorites separate, ensuring a smooth and organized browsing experience.
Users can sign in to the same site with both work and personal accounts, making it easier to switch between accounts while maintaining productivity.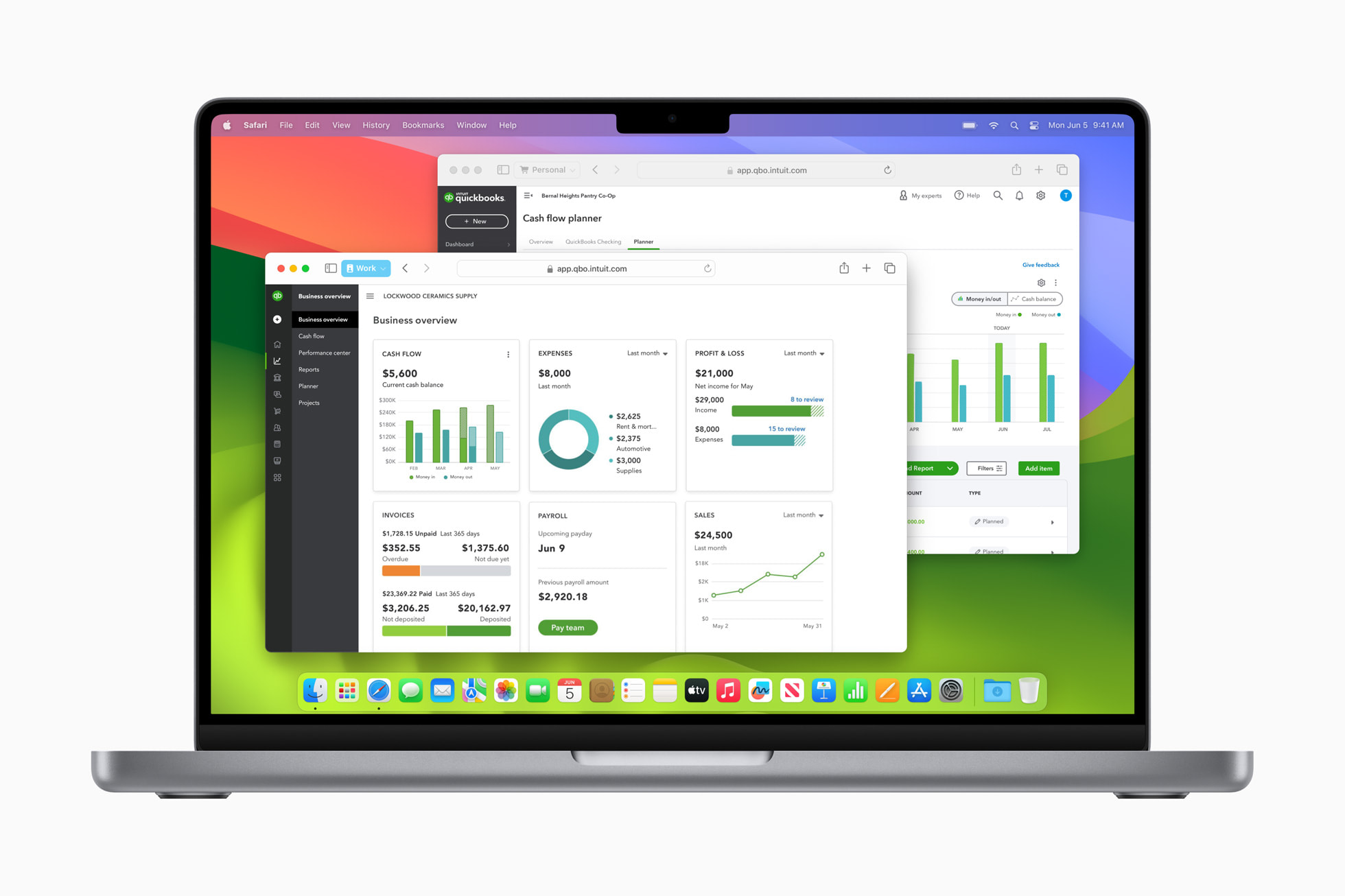 Safari also enables the creation of web apps that behave like regular applications, bringing users' favorite sites closer and providing a simplified toolbar for an app-like experience.
Stunning ScreenSavers
MacOS Sonoma introduces visually stunning screensavers featuring slow-motion videos of captivating locations from around the world. From the sweeping skyline of Hong Kong to the sandstone buttes of Monument Valley in Arizona, these screensavers add a touch of beauty and serenity to the Mac experience.
The themes include Landscape, Earth, Underwater, and Cityscape, seamlessly transitioning from the login screen to the desktop and enhancing the visual appeal of the Mac interface.
Improved Gaming Experience
With macOS Sonoma, Apple focuses on optimizing gaming performance on the Mac. The power of Apple's silicon ensures that users can experience incredible graphics performance on every Mac. The update introduces Game Mode, which prioritizes games on the CPU and GPU, delivering smoother and more consistent frame rates.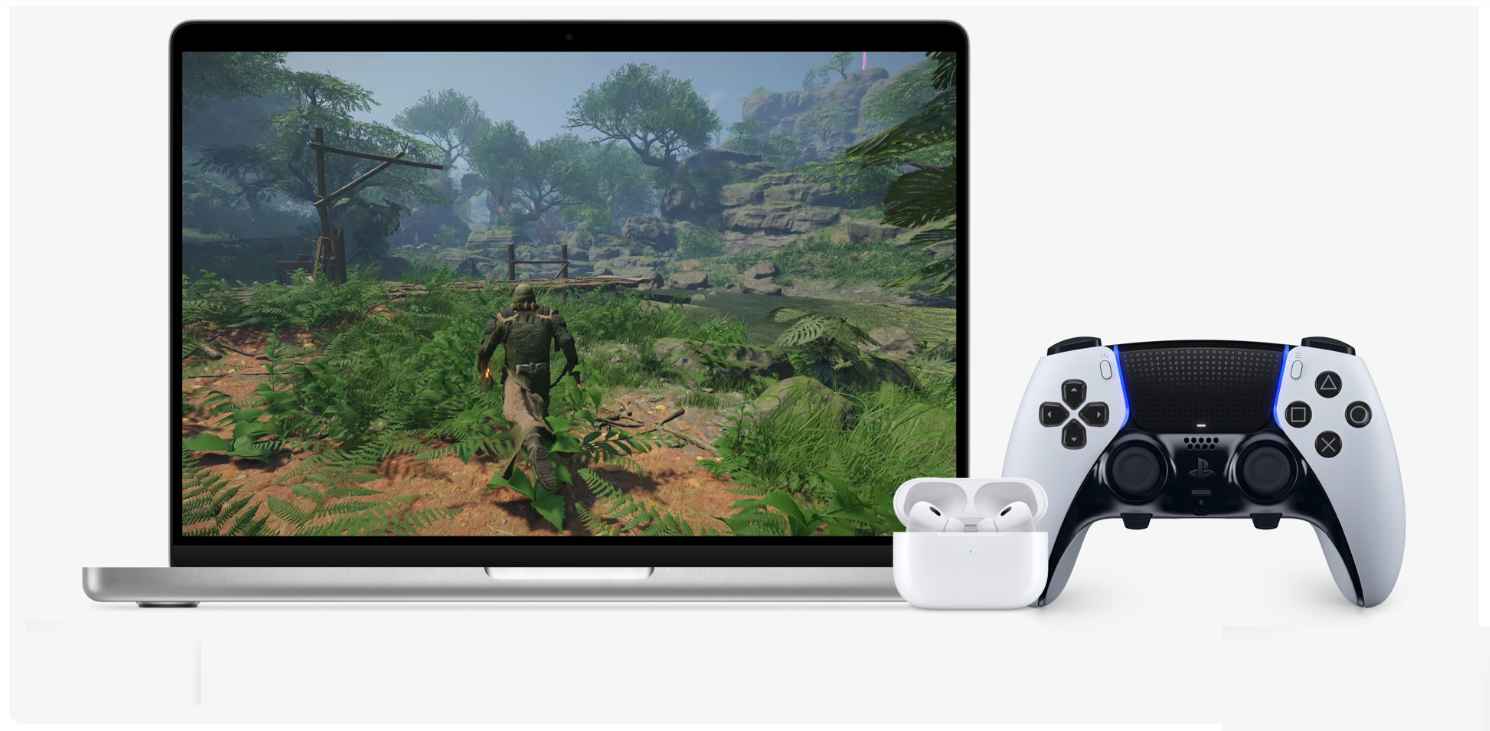 Game Mode also enhances the gaming experience by reducing audio latency with AirPods and significantly reducing input latency with popular game controllers for Xbox and PlayStation. To simplify the process of bringing games from other platforms to the Mac.
Apple's graphics technology, introduces a new game porting toolkit. This toolkit eliminates months of upfront work for developers, allowing them to quickly assess the performance of their existing games on Mac and optimize them for Apple silicon, reducing overall development time.
Enhancing Hybrid and Remote Workflows
The advanced media engine in Apple's silicon empowers macOS Sonoma to offer a new high-performance mode in the Screen Sharing app.
This mode provides incredibly responsive remote access for hybrid in-studio and remote professional workflows. It ensures low-latency audio, high frame rates, and support for up to two virtual displays.
Professionals can securely access their content creation workflows from anywhere, whether it's video editing in Final Cut Pro or DaVinci Resolve or working with complex 3D assets in Maya. The support for reference color further enables remote color workflows that were traditionally limited to dedicated hardware and specialized software.
Enhanced Accessibility Features
MacOS Sonoma introduces a range of accessibility features to make Mac more customizable and inclusive. Users with hearing disabilities can connect their Made for iPhone hearing devices to their Mac for calls and media consumption.
Non Speaking users can utilize Live Speech to type and vocalize their thoughts during calls and conversations. Users with physical and motor disabilities benefit from phonetic suggestions when dictating and editing text with Voice Control.
The update also improves the accessibility of Mac for users with cognitive disabilities by automatically pausing animated images like GIFs in Messages and Safari. Users who are blind or have low vision can easily customize text size across Mac apps and utilize Xcode with VoiceOver.
Additional Features
macOS Sonoma brings numerous additional updates, including streamlined PDF functionality, inline PDFs in Notes, simplified Siri activation, enhanced password sharing and autofill, an improved Messages experience, intelligent grocery lists in Reminders, and advanced keyboard features such as autocorrect and dictation improvements. Privacy and safety measures have also been enhanced, expanding communication safety to AirDrop, the Photos Picker, incoming calls, and FaceTime messages.
macOS Sonoma Compatibility
macOS Sonoma is compatible with these Apple devices:
iMac 2019 and later
Mac Pro 2019 and later
iMac Pro 2017
Mac Studio 2022 and later
MacBook Air 2018 and later
Mac mini 2018 and later
MacBook Pro 2018 and later
Conclusion
The developer beta of macOS Sonoma is now available through the Apple Developer Program, and a public beta will be released next month through the Apple Beta Software Program. The final release will be a free software update available in the fall. For more information and availability details, visit apple.com/macos/sonoma-preview.