Instagram is one of the most popular social media platforms in the world, and Tanzania is no exception. According to Napoleoncat, There were more than 2,174,000 Instagram users in Tanzania in February 2020, which accounted for 3.2% of its entire population.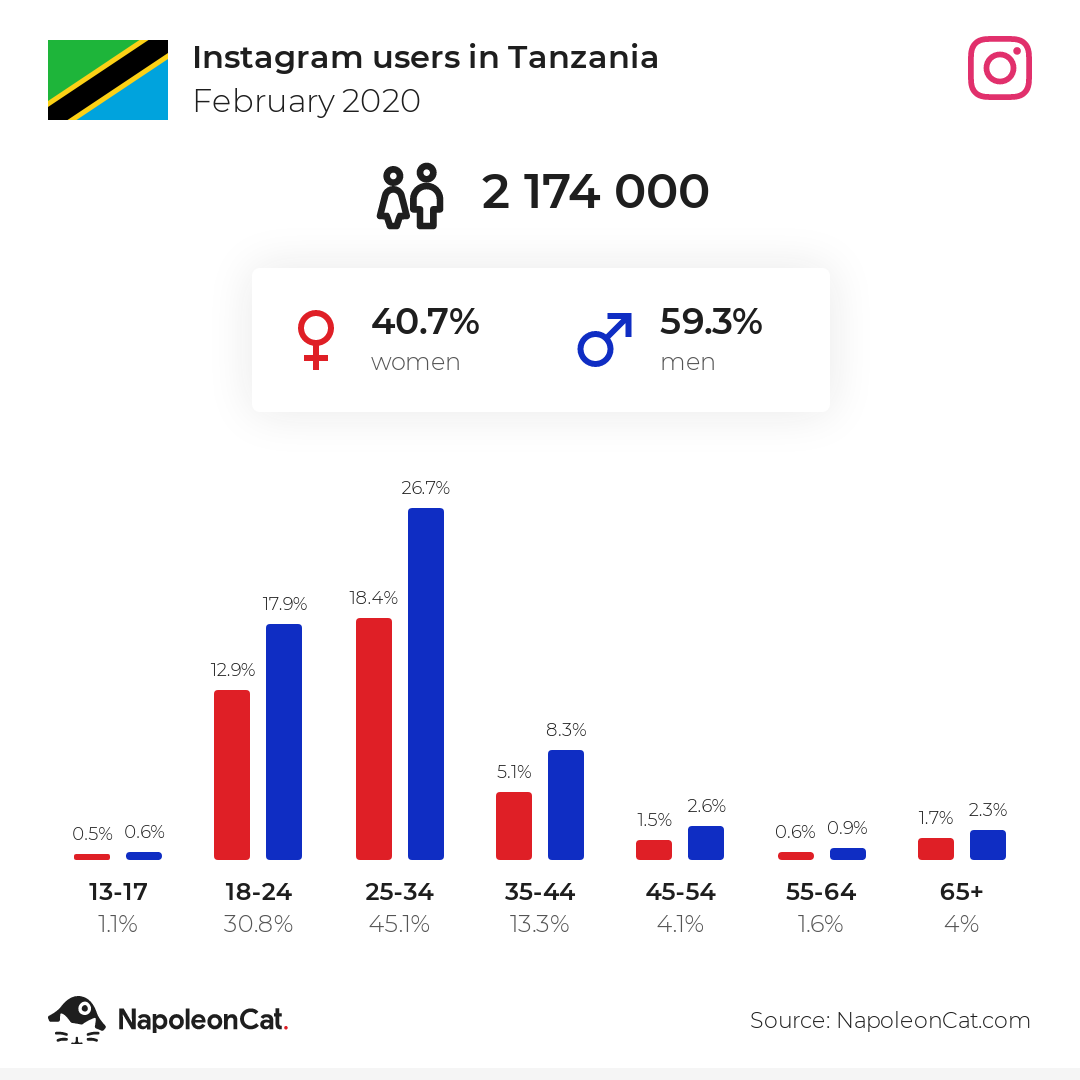 In fact, people aged 25 to 34 were the largest user group. Among them are a number of Tanzanian celebrities who have amassed large followings on the platform. Here is a list of the top 10 most famous Tanzanians on Instagram:
Naseeb Abdul Juma Issack, popularly known by his stage name Diamond Platnumz, is a Tanzanian bongo flava recording artist, dancer, philanthropist, and businessman. He is the founder and CEO of WCB Wasafi Record Label, Wasafi Bet, and Wasafi Media. He is currently the most-followed artist in Tanzania.
Millard Ayo is a Tanzanian journalist and media personality. He is the founder and CEO of Millard Ayo TV, a popular Tanzanian online news channel. Millard Ayo is known for his investigative journalism and his outspoken personality.
Wema Abraham Sepetu is a Tanzanian actress and beauty contestant who won the Miss Tanzania contest in 2006 Miss Tanzania. She represented Tanzania in Miss World 2006, which was held in Poland. She later became an actress in Tanzania.
Hamisa Mobetto is a Tanzanian model and businesswoman. She is also the mother of Diamond Platnumz's child. Hamisa Mobetto is known for her beauty and her fashion sense.
Zena Yusuf Mohammed, known by her stage name Shilole, is a Tanzanian singer, songwriter, actress, and businesswoman. She specializes in the R&B, Zouk and new generation Tanzania music popularly known as Bongo Fleva.
Rajab Abdul Kahali, also known by his stage name Harmonize, is a Tanzanian Bongo Flava artist, singer, songwriter and entrepreneur. He is a former member of Diamond Platnumz Wasafi Records label. Harmonize is known for his catchy songs and he is Founder of Konde Music Worldwide Label.
Raymond Shaban Mwakyusa, better known by his stage name Rayvanny, is a Tanzanian musician, songwriter and recording artist who was signed under WCB Wasafi record label until July 2022. He is also a founder of Next Level Music Records.
Ali Saleh Kiba, best known as Ali Kiba or King Kiba is a Tanzanian singer, songwriter, and dancer. He is one of the most popular musicians in Tanzania, and he has won numerous awards, including a MTV Africa Music Award. Alikiba is known for his catchy songs and he is the owner and founder of Kings Music label.
Jokate Mwegelo is a Tanzanian politician and the District Commissioner for Korogwe District in Tanzania. Before being appointed, she was an entrepreneur, a media personality. actress, model, and businesswoman.
Vanessa Hau Mdee, is a Tanzanian singer, rapper, television personality and radio host. Mdee is popularly known for being the first ever Tanzanian MTV VJ.
These are just a few of the many Tanzanian celebrities who have amassed large followings on Instagram. These celebrities use the platform to share their lives with their fans, promote their work, and connect with other people around the world.
If you're interested in learning more about Tanzanian culture and society, be sure to follow some of these accounts on Instagram, including ours @tanzaniatech_.